Walttools Releases Their New Ultra Performance Concrete Bond Coating Mix 
Walttools is announcing the availability of Structure Coat, their new concrete bond coating mix for use in the decorative concrete arena as the ultimate product for reinforced scratch coat applications.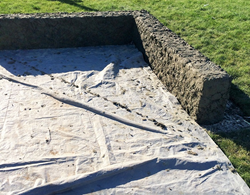 Structure Coat on Foam Wall
"It is an excellent structural coating. Whether I shoot it or lay it up by hand, one half inch is as tough as nails. My structure is sound and ready for my carve coat", says Nathan Giffin of Vertical Artisans
Morris, Illinois (PRWEB) October 24, 2014 
Structure Coat made its first public debut at the 2014 Concrete Décor show in Ft. Worth Texas last month in the hands of Nathan Giffin of Vertical Artisans. This product is designed to offer the contractor a highly reinforced base mix, ideally used as a scratch coat for application of a decorative vertical concrete overlay such as their Tru Pac admix, cultured stone and other stone veneers. It excels as a bond coat on structural foam and EPS foam, but also on cement board, clean concrete, and other related surfaces without the need for a bonding agent. Structure Coat was engineered for superior strength and water resistance that far exceeds traditional mortars used in that capacity. 
It can be applied via hand or proper concrete pump/spray application. Additional applications for this product is that it serves well as a high strength patching compound. 
Structure Coat will be available through select decorative concrete supply distributors.
Walttools is a premier manufacturer of Decorative Concrete Supplies and a leader in the Decorative vertical concrete arena. Their products have been used in over 30 countries. The product lines include Tru Impressions stamps and texture tools, the Tru Tex vertical concrete line, Tru Tint stains, and the ultra-versatile Tru Pac line of specialty ad pacs.